Features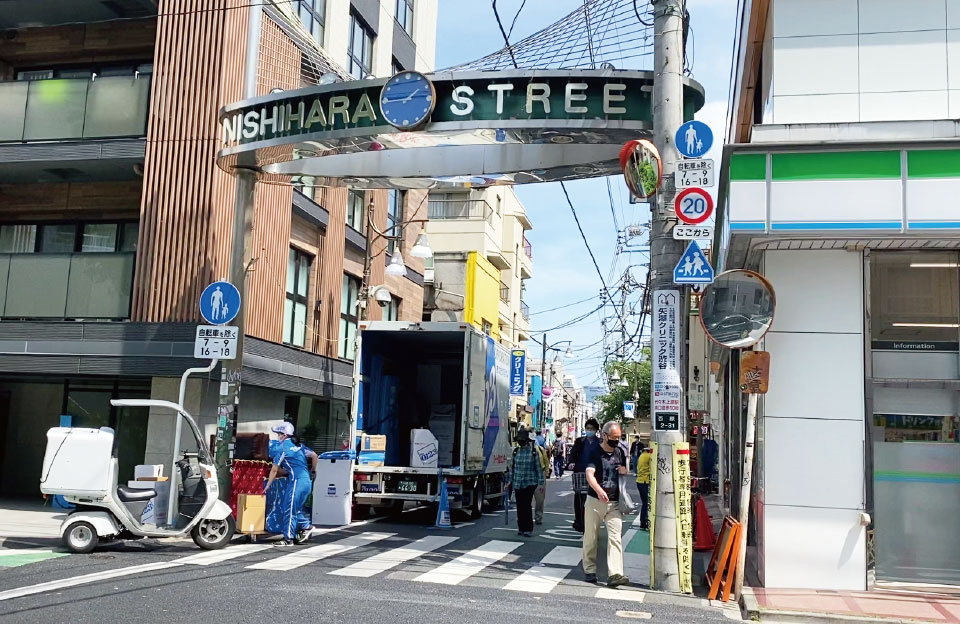 "Nishihara Shopping Street" retains the traditional atmosphere of the shopping district.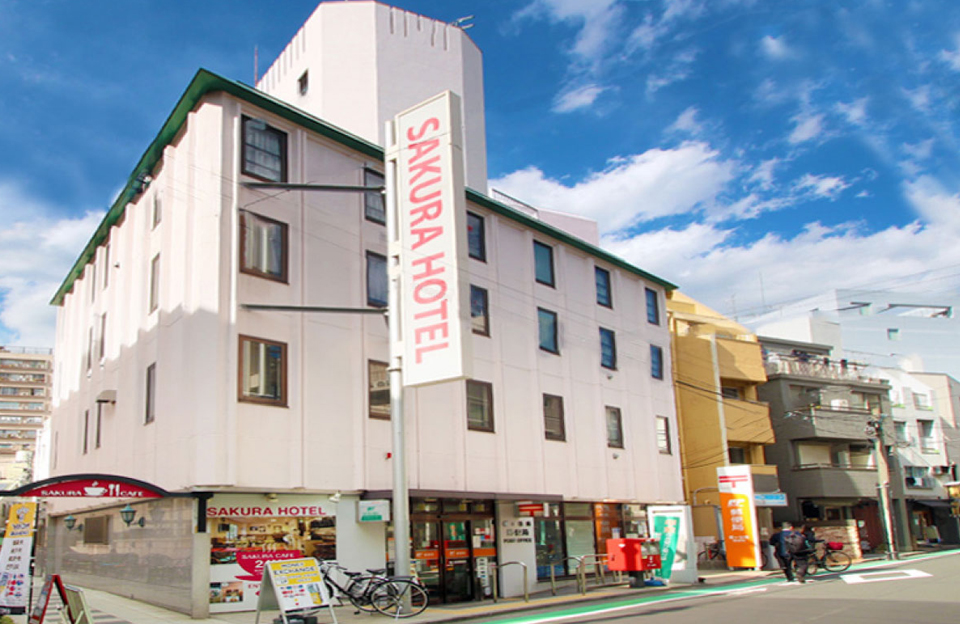 The "Entrance" of Sakura Hotel Hatagaya.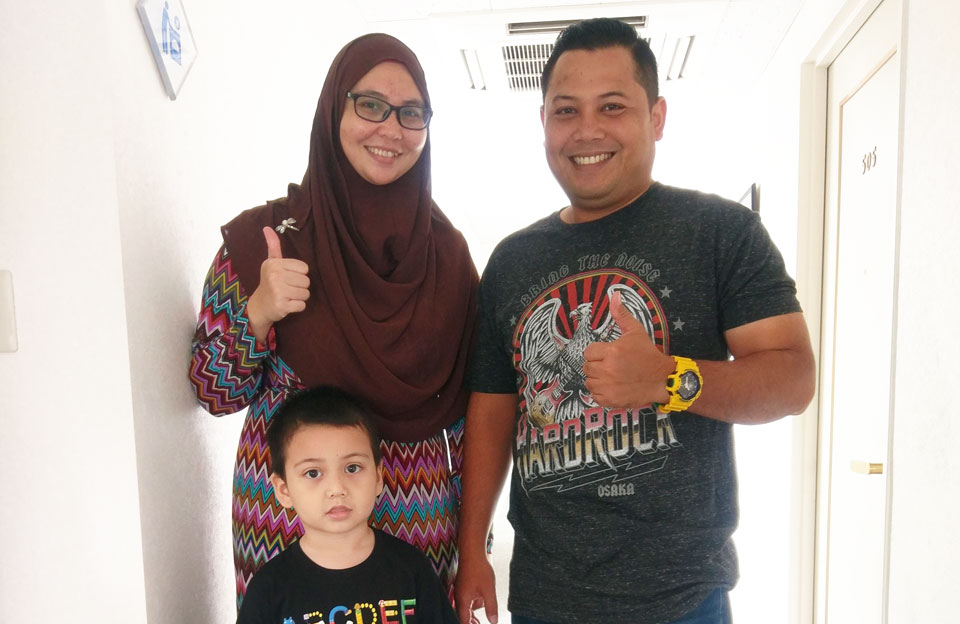 Our 24-hour cafe provide Muslim Friendly menu for our Muslim visitors too. We are also walking distance from the largest mosque in Japan (Tokyo Camii ). We have too received great reviews for being a Muslim-friendly hotel.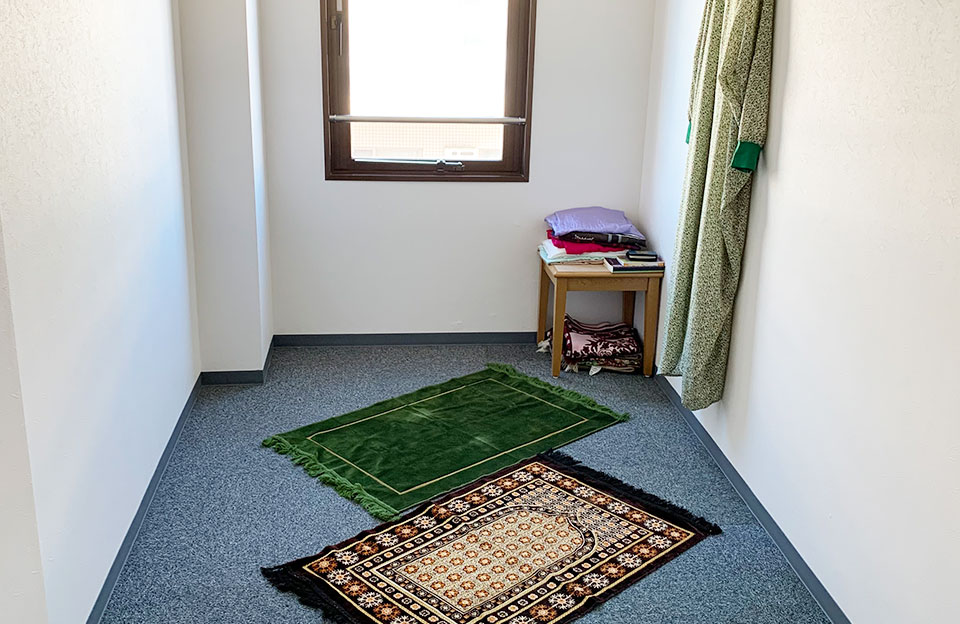 24 hours Prayer Room equipped with Qibla and Mattresses is available too.
We are located close to Shinjuku Subcenter and Shibuya. The nearest train station (Keio Shin Line, Hatagaya Station) is just a 2 minutes walk from the hotel.
Located near to Yoyogi Uehara a quiet luxury residential area is the Largest Mosque in Japan - Tokyo Camii and JICA Tokyo Center where research students from all over the world gather to learn Japanese technology. Many foreign visitors who are related to the program are staying Sakura Hotel Hatagaya too.
15 years ago, a hotel with nearly 50 years of history was being renewed and opened as our fourth Sakura Hotel outlet - Sakura Hotel & Cafe Hatagaya.
As old architect gives a warm, nostalgic atmosphere of nostalgia that new buildings don't have, we have been renewing old buildings to make the full use of it. Our Second Annex building was renovated and reopened in 2019, a detached building (Japanese long house "Nagaya") located at the back of the outdoor terrace cafe from the main building and our Third Annex in 2021.
Rooms
We have room types which accommodates to all groups from singles to couples, small groups of friends and family, and big groups of school and clubs etc. We have apartment type rooms with kitchen / shower / toilet
There are 75 Western-style rooms in the main building, 4 Japanese-style and 2 Western-style apartment-type rooms in the separate building annex equipped with kitchen / shower / toilet.
We will be able to accommodate to groups with 20 pax or more.
Our 24-hour reception allows you to Check-in early in the morning and check-out late at night at ease
* The photo shows a twin room (2 semi-double beds)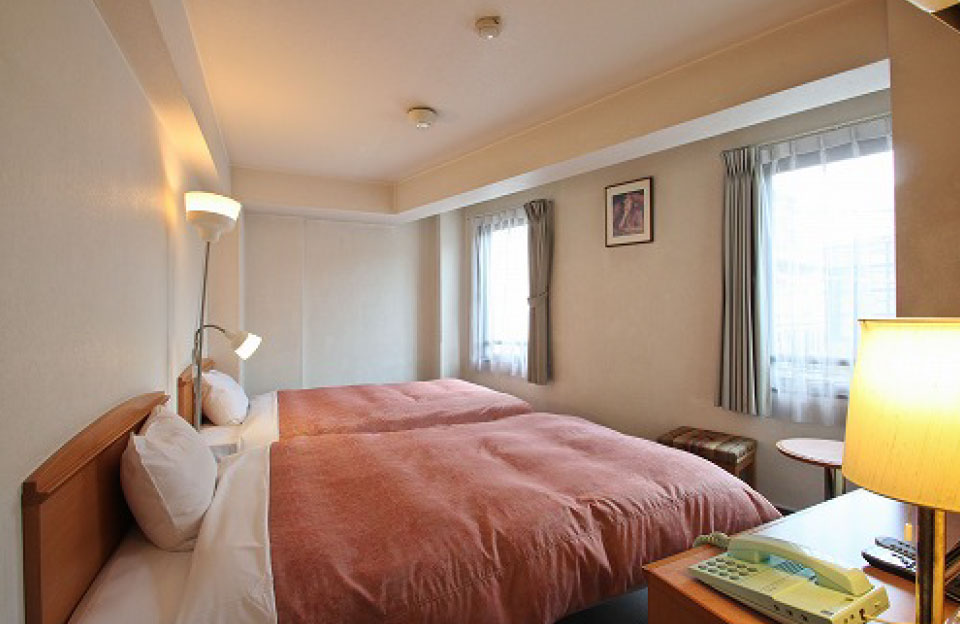 Room type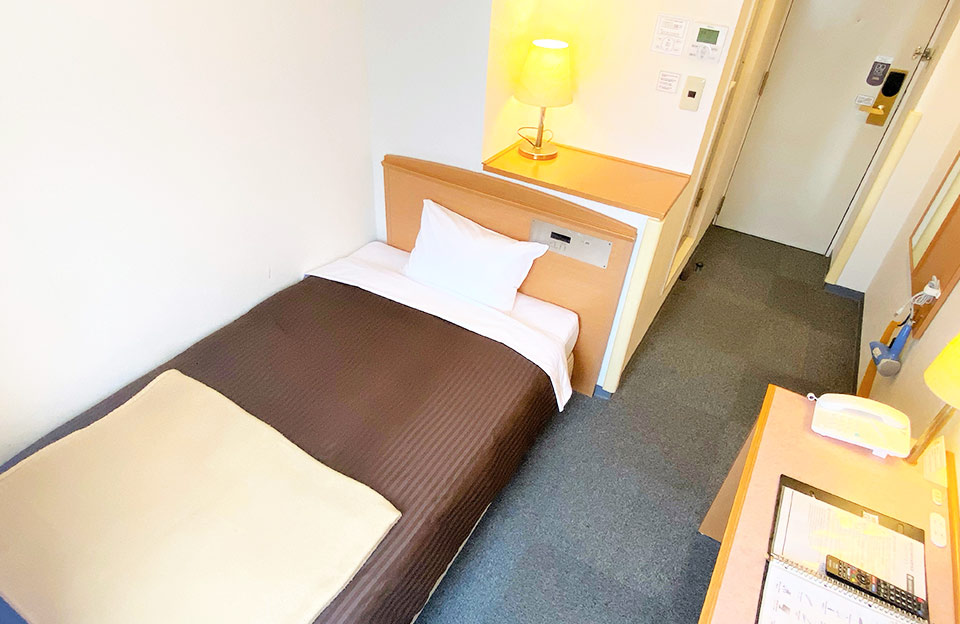 Single (1 bed) 1 person
Room with one 111 cm wide bed.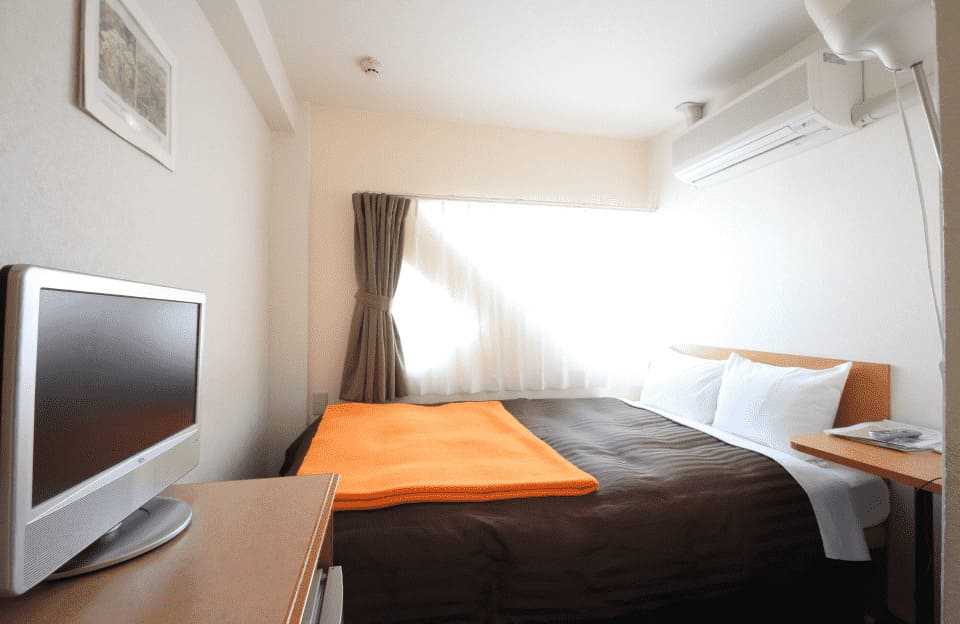 Double (1 bed) 1-2person
Reasonable stay which is appropriate for couples and friends.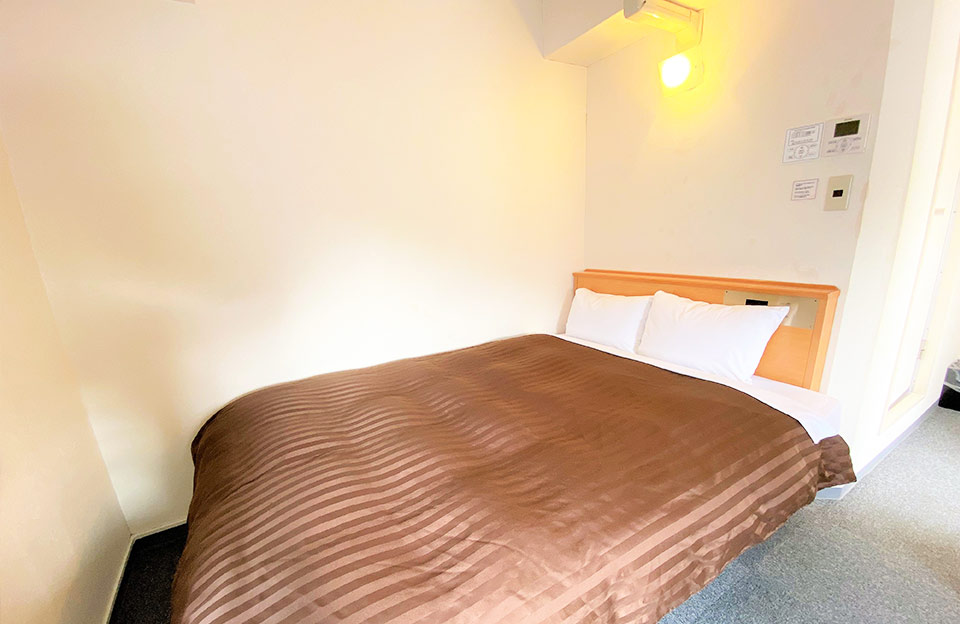 Corner Double (1 bed) 1-2person
Double room located on the corner.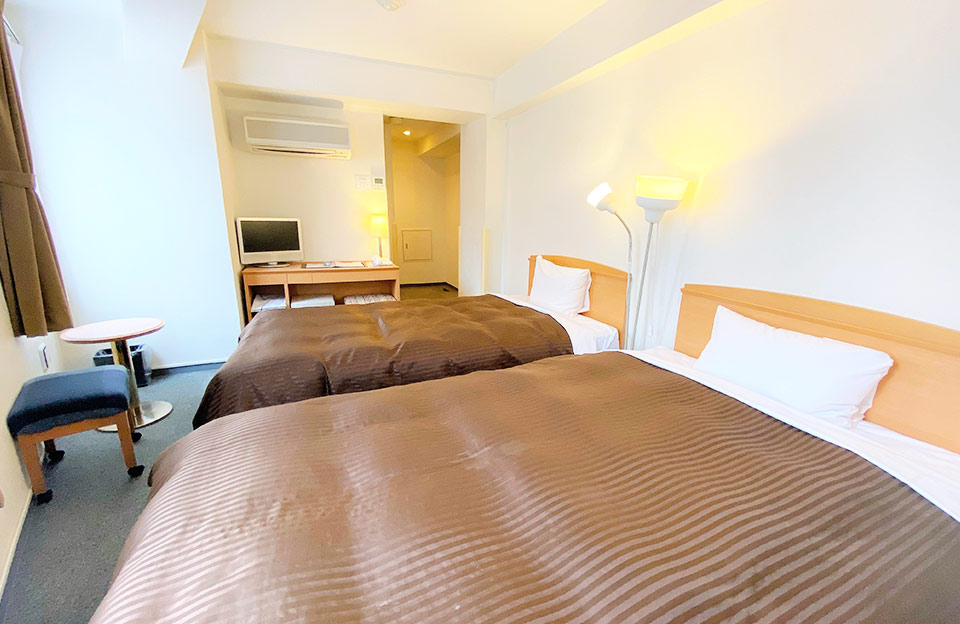 Twin (2beds) 2-4person
Two 140cm width beds can be shared with up to 4 people.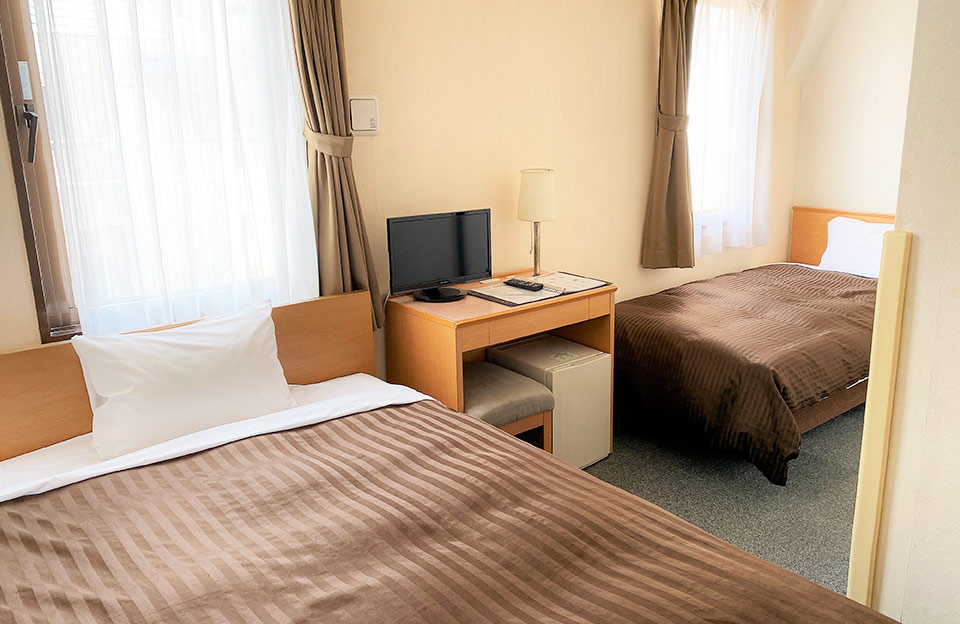 Twin (2beds) 2-3person
One 140 cm wide bed and one single bed. Can be shared with up to 3 persons.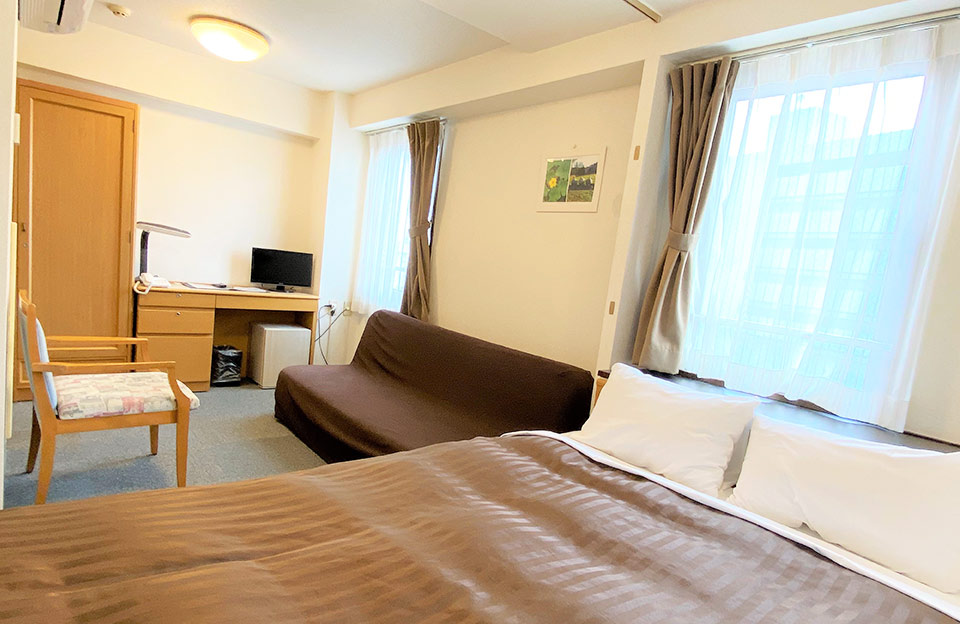 Deluxe Double (1bed + extrs) 2-3 persons
Room on the corner of the top floor Bath and toilet are separated.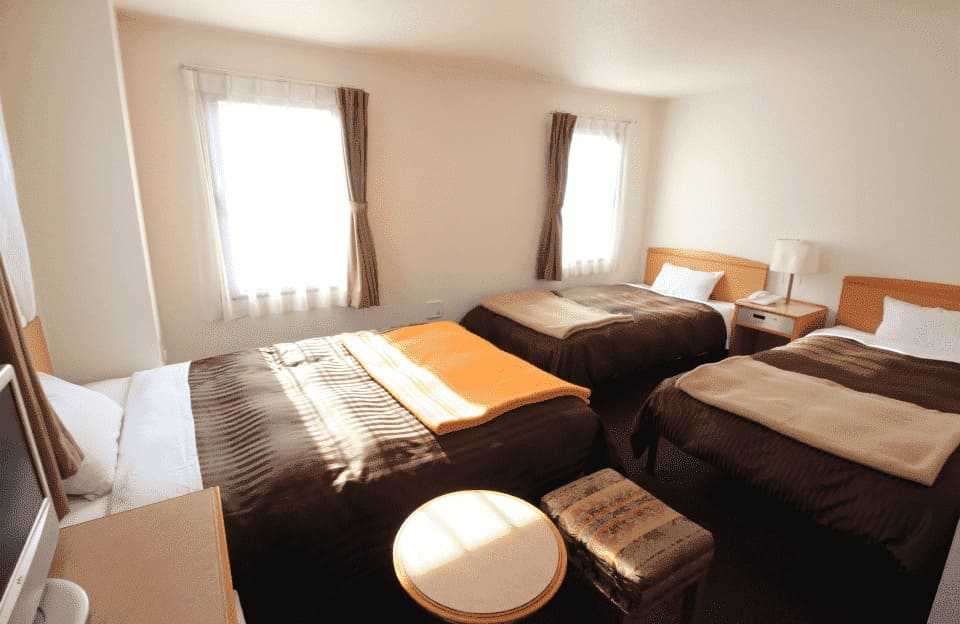 Triple (3beds) 3-4 persons
One 140cm width bed and two single beds can be shared with up to 4 people.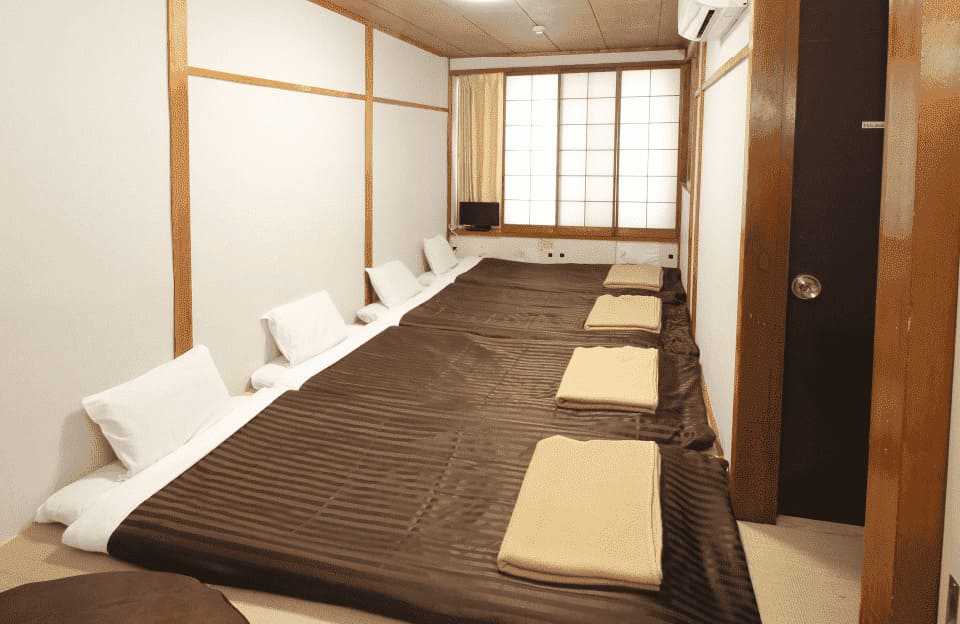 Japanese Room 3-4 persons
Japanese tatami room with kitchen, private shower and toilet.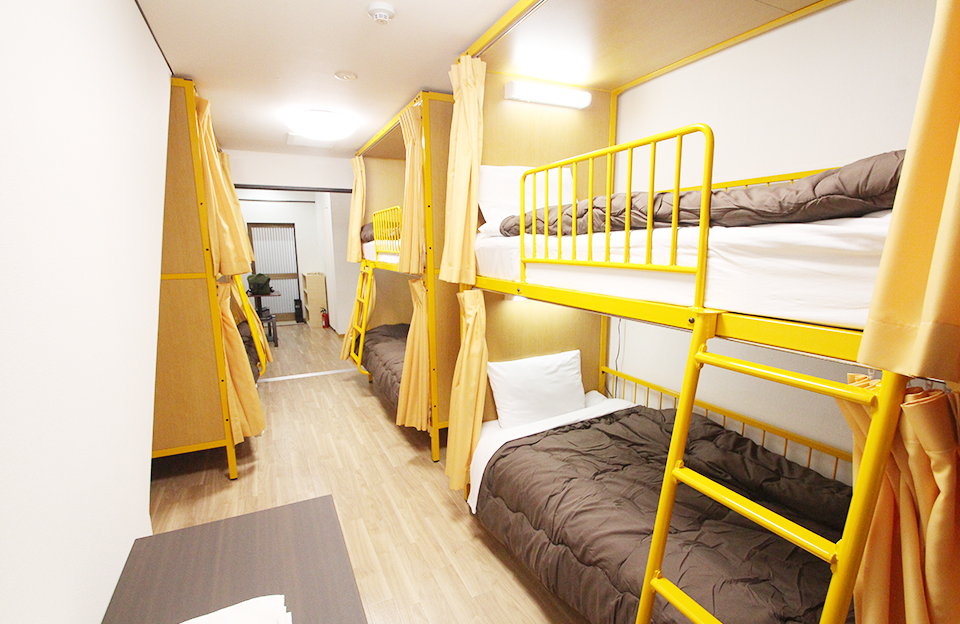 Group Room 2-6 persons
Bunk beds with kitchen, private shower and toilet.
Meals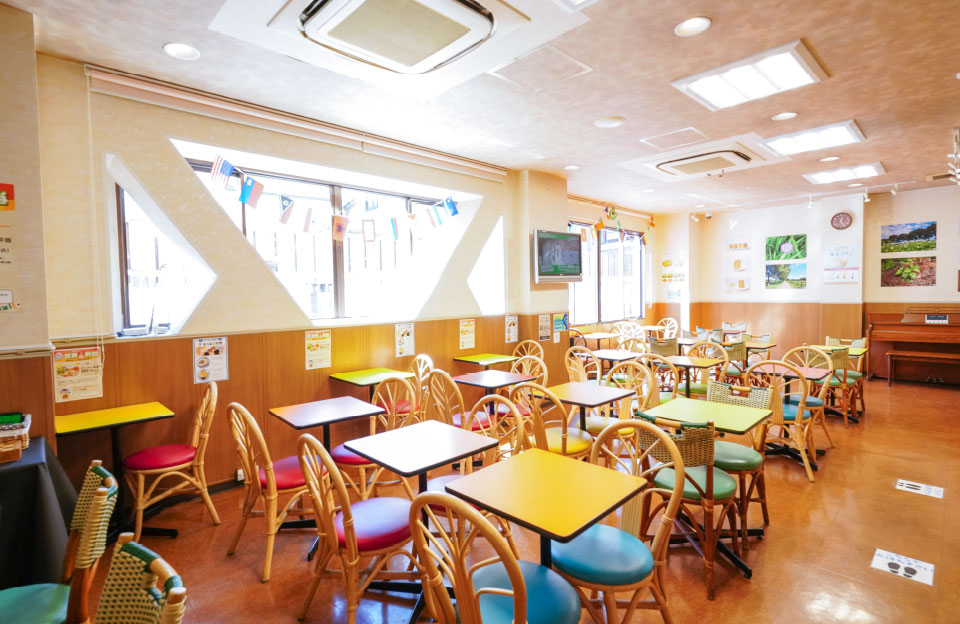 Main Building 1F Indoor Cafe Restaurant Space Up to 50 people, and 30 people standing on the terrace of the outdoor cafe on the 1st floor. This is a 24-hour SAKURA CAFE & RESTAURANT HATAGAYA with seats.
We serve special dishes uses completely pesticide-free vegetables directly delivered from the company-owned farm "Tohoku Bokujo Ranch" located in Tohoku-machi, Aomori Prefecture, as well as 10 kinds of organic herbs and wild plants and pesticide-free fertilized eggs. Our cafe & restaurant is also characterized by serving home-style dishes from around the world that we learn from international guests staying at our hotel. You can also enjoy original sweets and drink menus featuring seasonal organic herbs and wild plants, original sweets and drink menu.
Hotel Overview
Multilingual Staff

SAKURA HOTEL HATAGAYA staff speaks English and Japanese.

24-Hour Reception and Cafe

Both the reception and cafe are open 24 hours a day. Outside Cafe terrace is open only from 7am till 10pm.
Free Wi-Fi

Information
Desk

Luggage Storage
Service
Reception
English speaking staff are on duty 24 hours a day to help you.
We welcome any kind of question, both night and day, including what to see, eat, buy, and
experience in Tokyo; how to get to sightseeing spots; the latest event and night clubbing information; how to explore Eastern Japan and the countryside; and more!
We can help you on a wide range of travel-related questions!
Let us know your travel schedule and destination or ask us about the places you want to visit, and we will help you plan your trip by providing useful and interesting information.
Early Check-in, Late Check-out, No Curfew
Our earliest check-in time is 3:00 pm, and the latest check-out time is 10:00 am.
You can leave your luggage at the luggage storage before checking in or after checking out. Of course, we have no curfew.
Service
Breakfast
Breakfast costs 390 yen and is available from 5:00 am to 11 am Toast with jam, butter and margarine, soup, coffee and tea.
Luggage storage
If you arrive earlier than the check-in time and still want to see the sights after check-out,
we will store your luggage at the front desk.
Room Facilities
Shower room / Toilet
Private bathroom is in each room.
Air conditioner
TV
Refrigerator
Hair dryer
Free Wi-Fi
Elevator
Projector
Microphone
Piano
Copy machine
10 yen per monochrome / 100 yen per color / 30yen for Fax in Japan
Laundromat
4 washers and 4 dryers on the 1st floor(available 24hours)
Currency exchange machine
Available 24/7 for 12 currencies can be exchanged to Japanese Yen.
Smoking
All rooms are none smoking. There is a smoking booth at terrace.
Amenities / Free rental
Bath towel
Slippers
Hairdryer
Toothbrush
Razor & Shaving Gel
Soap, Shampoo, Conditioner
Humidifier
Iron / Ironing board
Desk lamp
Wheelchair
Extension cord