Sakura Cafe is temporarily shortened open hours.
In order to prevent the spread of the new coronavirus, From June 1st, Sakura Cafe will be open from 7:00 to 22:00 temporarily. Sakura Cafe Nippori will open till 21:00.
We apologize for any inconvenience and thank you for your understanding and cooperation.
About Sakura Cafe & Restaurants
Sakura cafe & restaurant is found at Sakura Hotels in Tokyo. Featuring international cuisines and varieties of beer from all over the world, Enjoy our unique global atmosphere. It is a good hanging out place to relax, eat and drink with your friends and have fun.
Open 24hours, Free Wi-Fi, breakfast at 4:30 in the morning for hotel guests.
About Tohoku bokujo
In the vast site overlooking the Hakkoda mountain range in Aomori Prefecture, Tohoku Farm uses compost from the breeding of thoroughbreds, horses and chickens for vegetable cultivation, and produces not only safe and secure vegetables and eggs that are full of the goodness of the Tohoku region.
Sakura Cafe's special seasonal menu includes vegetables and herbs grown without the use of pesticides, chemical fertilizers or herbicides, eggs from home-grown corn-fed, flat-farmed chickens, natural wild vegetables and wildflowers.
Wild herbs from Tohoku bokujo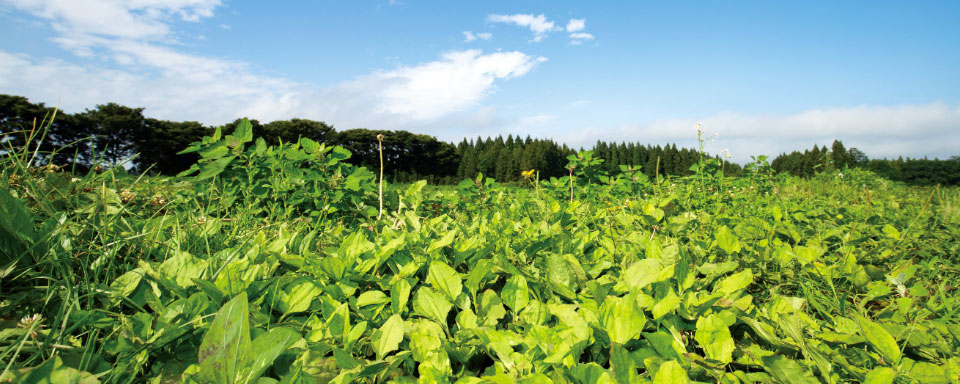 Chinese plantain growing wild in the Tohoku Bokujo
There are many wild herbs growing wild on the land of the Tohoku bokujo.
From ancient times, wild herbs have been used not only as food but also as medicinal herbs because of their high nutritional value and various effects.
Without the use of pesticides or chemical fertilizers, wild herbs from all four seasons grow freely on the grounds of the Tohoku bokujo.
With the hope that many people will be able to consume these nourishing wild herbs with their hidden power, we began offering them at our restaurants and cafes.
The wild herbs are full of nature's blessings.
Sakura Cafe offers a menu full of originality, including dishes, desserts, and wild herb teas.