Access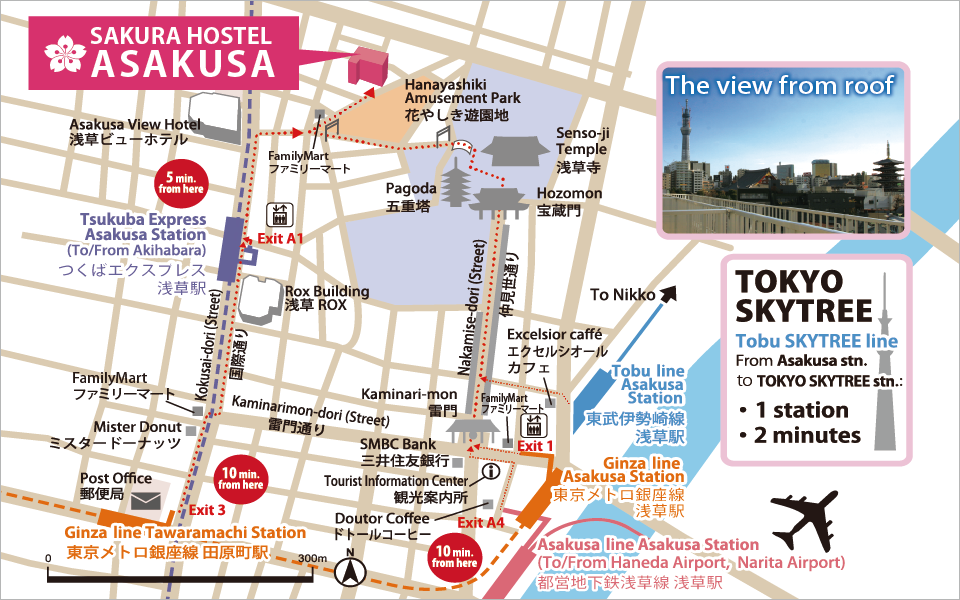 Sakura Hostel Asakusa is located just behind Sensoji Temple and Kaminarimon, right behind Hanayashiki Amusement Park. It is always convenient for sightseeing in Asakusa by using Tokyo Metro Ginza Line, Toei Subway Asakusa Line, Tobu Isesaki Line, and Tsukuba Express, so you can easily access not only sightseeing spots throughout Tokyo but also Nikko City, a World Heritage Site Location.
Nearest Station
Walking distance from Asakusa Station
(Ginza Line, Asakusa Line, Tsukuba Express, Isesaki Line)
From Narita Airport to Asakusa
Keisei Railway
Narita Airport

Keisei Narita

Asakusa
When coming from Narita International Airport to Asakusa, it is convenient to use the Keisei Narita Sky Access Line or Keisei Main Line. Keisei Skyliner and JR Narita Express do not head towards Asakusa.Please be careful.
From Haneda Airport
Train
Haneda airport

Keikyu Line (get on Toei Asakusa Line)

Asakusa Station
Access from Tokyo Station
Tokyo Station

JR Yamanote Line

Akihabara Station

Tsukuba Express

Asakusa Station
Local information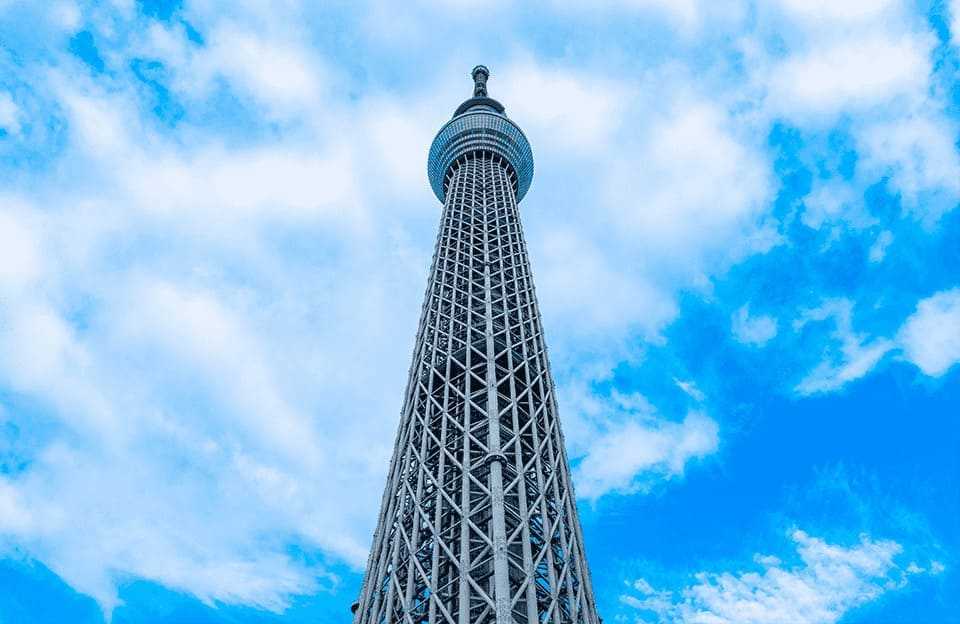 TOKYO SKYTREE
TOKYO SKYTREE is one of the most popular sight seeing place in Tokyo.
It reaches 634 meter high and you will find amazing panoramic view of Tokyo. The area around the tower is also great to visit called"TOKYO SKYTREE Town." There are shopping mall, domed theater, aquarium, planetarium, and restaurants.
From Asakusa Station, a 2 minute-ride on the TOBU SKYTREE Line to TOKYO SKYTREE Station.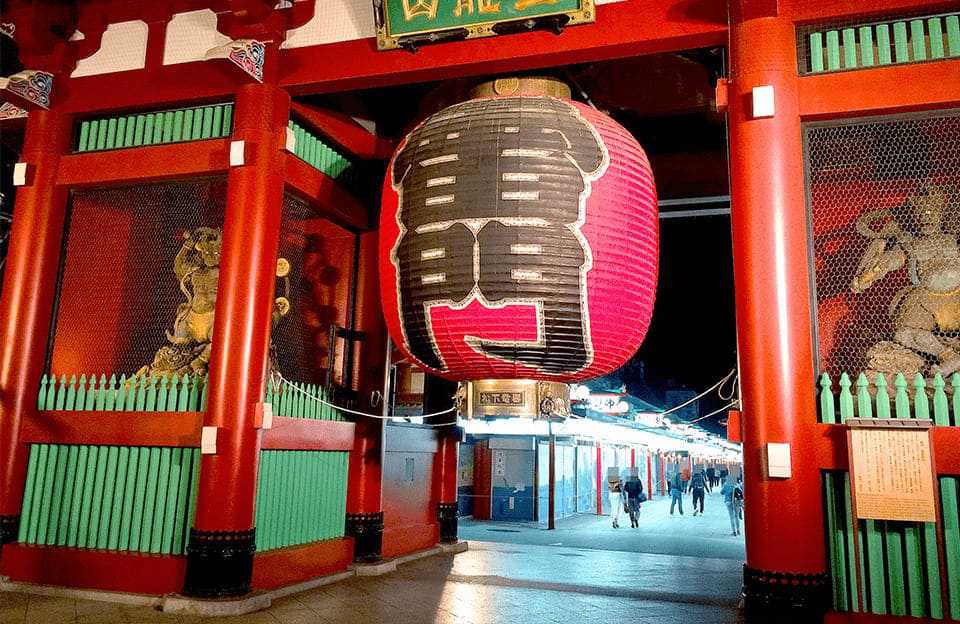 ASAKUSA Local Attractions.
Kaminari-mon (Thunder gate)
The outer gate of Senso-ji temple. Originally built in 942, but have experienced burn downs and re-buildings.
The latest version was donated by Konosuke Matsushita, the founder of Matsushita Electric (Panasonic) in 1960. It is a giant paper lantern that is hanging at the center.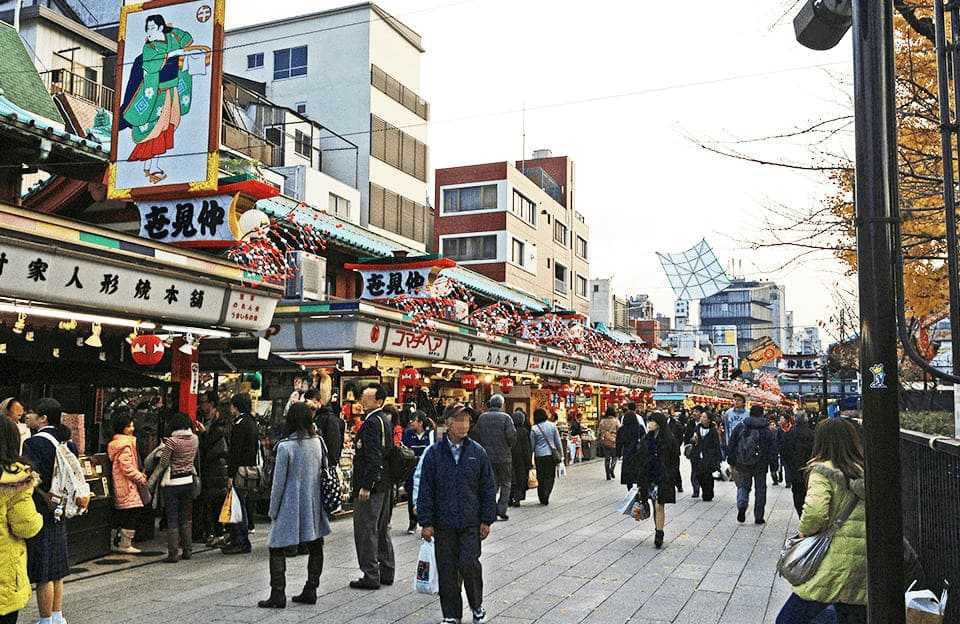 Nakamise-dori
The front approach to Senso-ji temple. Always busy with tourists and souvenir shops.
Nakamise is a shopping lane that extends for about 250 meters from Kaminarimon Gate to Hozomon Gate, and
is lined with brick and vermilion-lacquered buildings.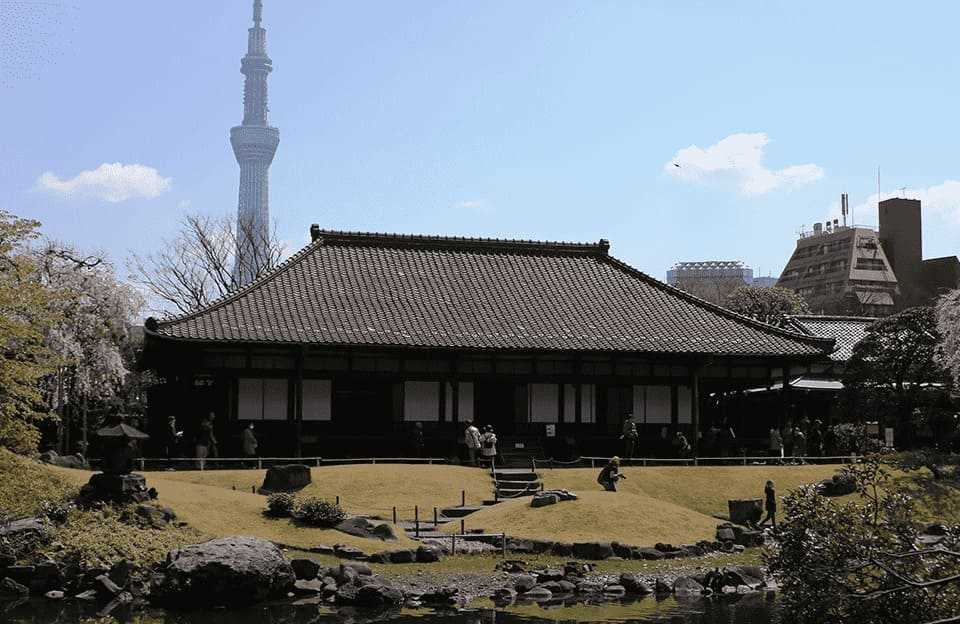 Dempo-in temple
The accommodation for monks of Senso-ji temple. Unfortunately not open to the public anymore. Dempoin Temple is at the left side of the Sensoji Temple (from the Kaminari-mon Gate), just beside the approach to the Sensoji Temple. The temple is usually closed to the public, although there is a magnificent garden inside.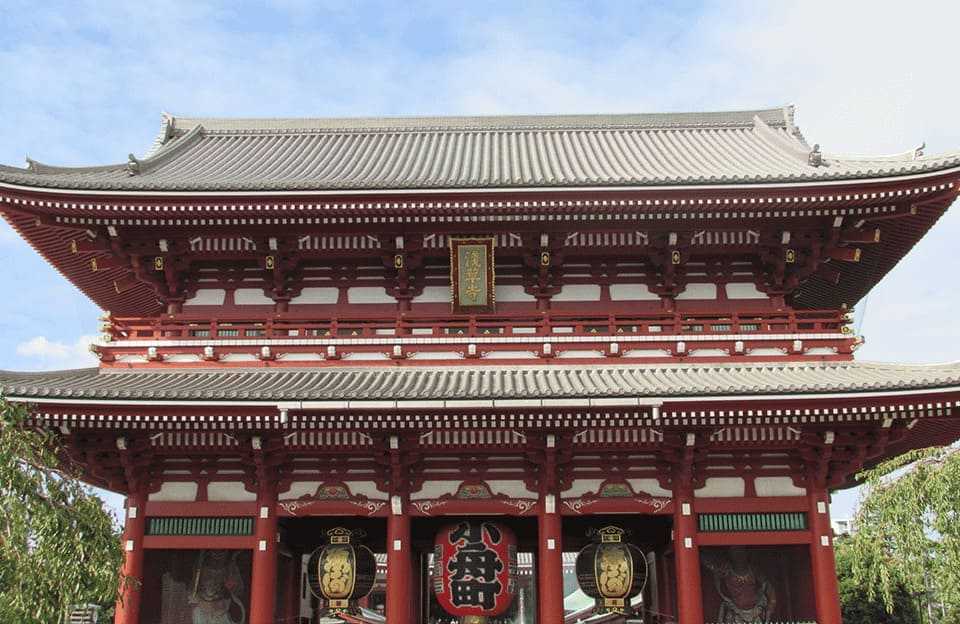 Hozo-mon
The second gate to Senso-ji. The upper part of the building also works as a treasure house.
The Hōzōmon (宝蔵門, "Treasure-House Gate") is the inner of two large entrance gates that ultimately leads to the Sensō-ji (the outer being the Kaminarimon) in Asakusa, Tokyo.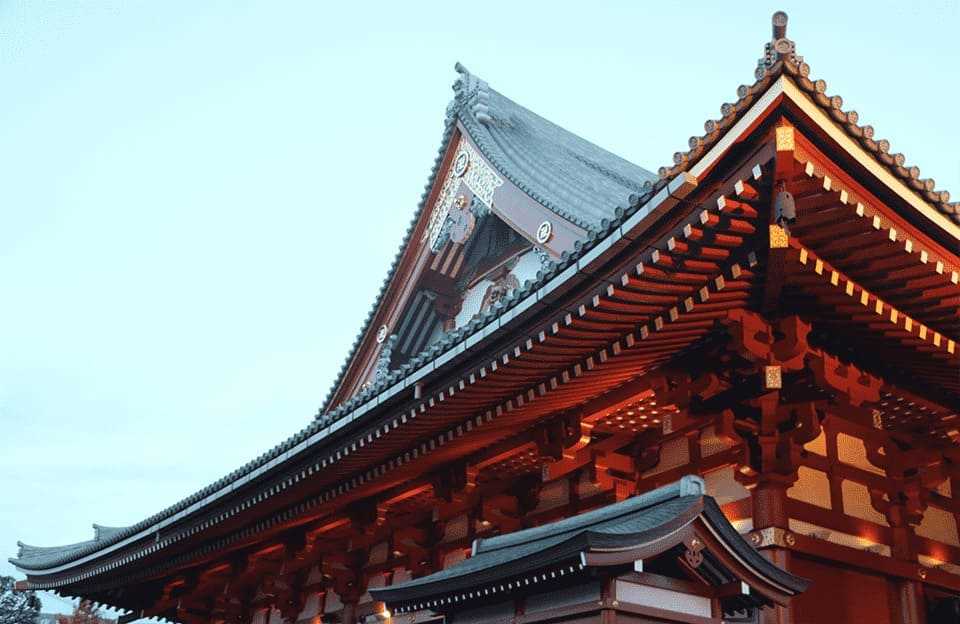 Senso-ji temple
The main Buddhist temple of Asakusa, with the longest history among all the temples and shrines in Tokyo.
Its origin dates back to 628, when a fisherman brothers found a figure of goddess at Sumida river, and a temple to store it was built.